APM DS-SS-16 Drop Sealer
APM DS-SS-16 Drop Sealer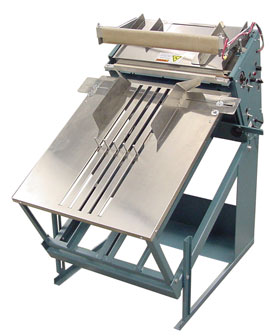 APM's full line of gravity drop sealers can be used alone or in conjunction with a speedy bag packager. APM drop sealers produce either an impulse seal, impulse seal & trim or a bead trim seal. They can seal packages automatically or manually using the included foot switch. Seals bags made from PE, PP, co-extrusions, nylon,Tyvek® and other heat sealable bags .
Drop sealer model DS-SS-16 yields a smokeless and odorless bead trim seal on bags up to 15.5" wide and products up to 22" long. Polyethylene bags up to 1.75 mil thick can be sealed. For thicker Polyethylene bags see model DS-SS-IMP-5/16-16. Polypropylene bags up to 1.0 mil can also me used on model DS-SS-16. For thicker Polypropylene bags see model DS-SS-16-PP/PE.
Features: Materials: Polyethylene, Polypropylene (seals without angel hairs).
Can be operated in automatic mode using product micro switch or manual mode using the foot pedal included.
Complete with automatic scrap removal and net scrap accumulator
Preheat design built in-no warm up time required
Welded Heavy Duty Steel Powder Coated Chassis construction
Stainless steel contact surfaces and adjustable product guides
Up to 25 ppm can be achieved on some products
Quick and accurate length and width adjustments takes seconds
Compressed air required, 110V, 1 phase, 60 cycle (220V available)
Designed to operate with all Speedy Bag Packager models
Safeguard device available
Adjustable pneumatic compression plate option available to remove excess air from bagged product prior to sealing
Features:Materials: Polyethylene, Polypropylene (seals without angel hairs).
Can be operated in automatic mode using product micro switch or manual mode using the foot pedal included.
Complete with automatic scrap removal and net scrap accumulator
Preheat design built in-no warm up time required
Welded Heavy Duty Steel Powder Coated Chassis construction
Stainless steel contact surfaces and adjustable product guides
Up to 25 ppm can be achieved on some products
Quick and accurate length and width adjustments takes seconds
Compressed air required, 110V, 1 phase, 60 cycle (220V available)
Designed to operate with all Speedy Bag Packager models
Safeguard device available
Adjustable pneumatic compression plate option available to remove excess air from bagged product prior to sealing