Clamco Rollbag 1055 Manual Roll Baggers
Clamco Rollbag 1055 Manual Roll Baggers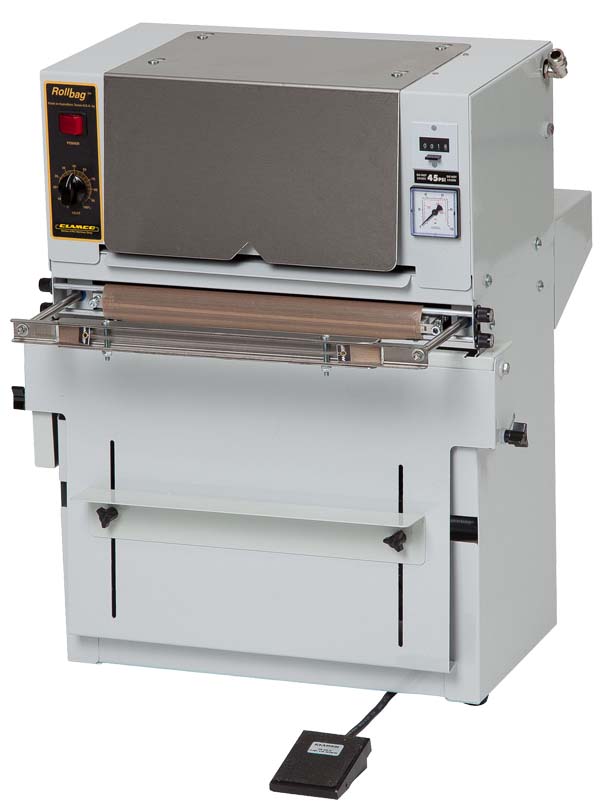 Open, fill, and seal any pre-made bags on a roll with the 1055 Rollbag™. The 1055 makes a seal without having to remove the filled bag by use of an electric footswitch.
The 1055 greatly reduces the amount of time required over a manual opening, filling, and sealing system, creating a short investment payback period.
The Rollbag 1055 bagger is made in the USA and includes a 1-year limited warranty, extendable up to 5 years when exclusively using Rollbag brand bags on a roll or poly tubing!
Adjustable Funnel with Preparation Table
Stainless Steel table mounted above the machine that allows for sorting, storing and kitting of product before manually pushing the product into the adjustable funnel which guides the product into the bag.
Air Expeller
Also known as a bag deflator. This option mounts to the pressure bar and compresses the air out of the bag as it travels inward toward the machine just prior to the sealing process.
Spare Parts Kit is also available for the 1055
220 Volt Option- Is available
Minimum Bag Size: 2? x 2?
Max Bag Size: 12? x 12?
1055 Rollbag Fill and Seal Machine:
Company: Clamco Packaging
Machine type: Rollbag Systems
Industries:
Electronics
Medical/Pharmaceutical
Manufacturing
Publishing/Printing
Wholesale Trade
Retail