Clamco FW 450HS High Speed Flow Wrapper
Clamco FW 450HS High Speed Flow Wrapper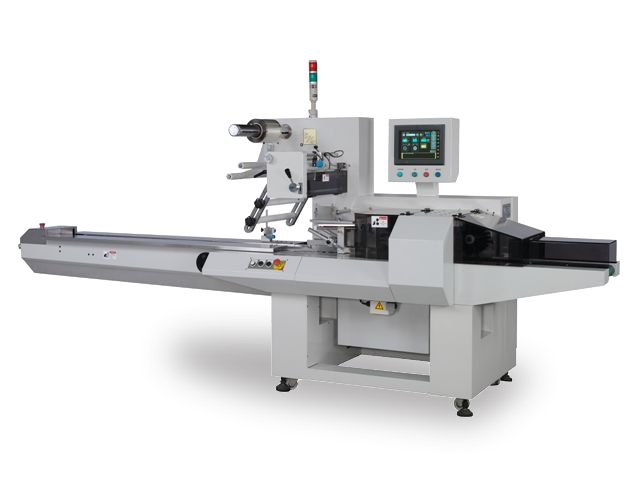 The FW 450HS is a state-of-the-art high-speed flow wrapper. The FW 450HS is loaded with great features that help packagers take their production capabilities to a whole new level. These features include self-diagnosis function for easy troubleshooting, low noise servo motor driving system for all four independent servo motors, and an easy-to operate interface.
For packagers that need to run several products on the same machine the FW 450HS flow wrapper has an adjustable forming box that allows for tremendous flexibility. This machine almost thinks for itself with an overload sensing function on each servo that prevents products from being damaged if misaligned and a standard no product, no bag feature to reduce film waste.
The 450HS flow wrapper can be used for packaging a wide variety of products from baked goods to medical supplies, in clear or registered film.
The FW 450HS Flow Wrapper includes a 2 year limited warranty.
Hot stamp printer for date/lot coding
Thermal transfer printer for printing bar codes and variable product information
Gas flush for modified atmosphere packaging, extending product shelf-life
Cross-Feeding Conveyor for faster product loading
Delicate product conveyor
Automatic feeding conveyors
Round accumulation table
Fixed formers
Straight cut end seal
Straight cut end seal with tear slit or tear notch
End seal with round hang hole or euro hang hole
Water cool ready transfer plates (for ice cream bars or temperature sensitive products)
Water chiller (for water cool transfer plates)


Features:
4 Allen Bradley servos to control fin seals, end seals, in-feed conveyor, and film unwind.
Precision photocell for indexing pre-printed registered film
No product, no bag feature standard
Misaligned product detection (no gap between products, no end seal)
Adjustable bag former to accommodate various product dimensions
Single film roll holder with self centering film capability
8? in-feed conveyor with adjustable width for various product dimensions
Fin seal brushes to assist product transport and remove excess air from package
End seal brushes to assist transition to discharge conveyor
Belt discharge conveyor
End of film detection to stop machine automatically
Safety covers to prevent operator access to moving parts
Allen Bradley PLC with 10.4? touch screen HMI for easy setup and changeover
Self diagnosis function with error message for easy identification
Memory storage of product/machine settings, up to 50 jobs
4 Heated fin seal wheels with independent temperature control
Twin end sealing jaws with independent temperature control for each end sealing jaw
Painted machine frame
Stainless steel frame and product contact areas
Zig-zag end seal cut for easy opening of package (other cutting styles optional)
Specifications:
Speed: 20 – 300 packages/min
Bag Length (min – max): 2? – 29.5?
Max Product Height: 2.25? (3.5? large jaw option)
Product Width: 1?- 4.75? or (2? – 6? large jaw option)
Max Film Width: 17.5?
Max film diameter: 12.5? O.D. Film Core: 3? I.D.
In-feed conveyor length: 8 feet
Machine Dimensions (L x D x H): 153.5? x 45.5? x 63?
Electrical: 230V, 1-ph, 15A