Clamco 6750EL Automatic L-Bar Sealer
Clamco 6750EL Automatic L-Bar Sealer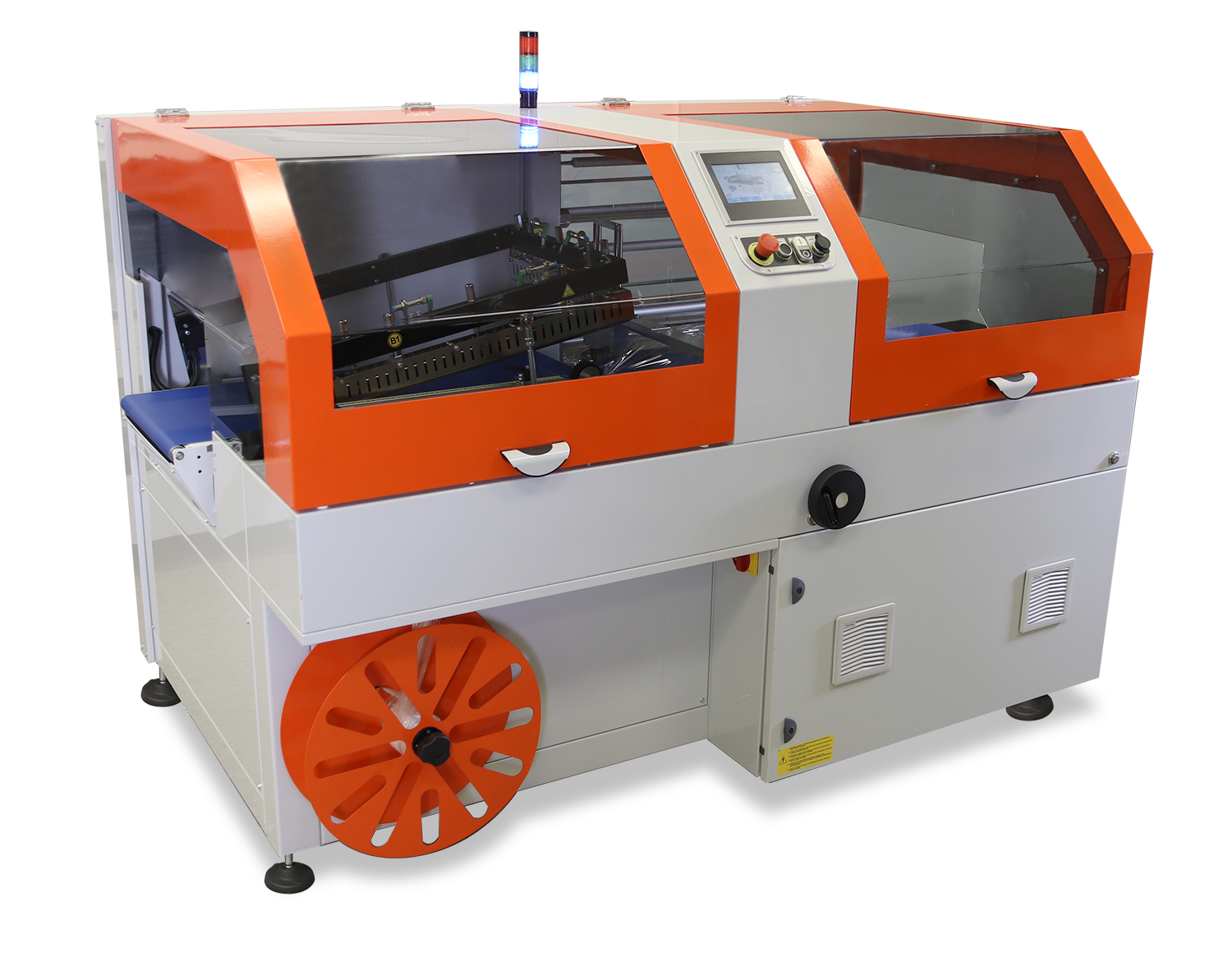 All-electric smooth quiet operation
The Clamco 6750EL automatic intermittent motion L-Bar sealer is a highly efficient, all-electric shrink wrapper that delivers high-quality performance at an exceptional value. Using center-folded film this automatic L-Bar sealer may be used for shrink wrapping (used with a shrink tunnel) or for bagging various single products or groups of products into a single package. 6750EL requires no compressed air and provides quiet operation and greater efficiency compared to conventional pneumatic models. It also offers greater flexibility in terms of placement within a facility.
Create dazzling packages
The 6750EL L-Bar sealer creates exceptionally well-formed packages using motorized seal centering and package opening height adjustment. These controls make it easy for the operator to adjust the seal center and height for precision control of film handling. The 6750EL will wrap products of various sizes quickly and requires minimal time or effort for film size changeover. Products can be sealed in crystal-clear film to protect against dust, dirt, moisture, and tampering. Beautiful, shrink-wrapped packages provide a protective covering while product contents remain visible inside.
The 6750EL is a dependable packaging solution
The 6750EL is easy to set up, simple to program and offers multiple operating modes for performance and convenience. This L-Bar sealer is an excellent stand-alone sealer or can be matched with a Clamco heavy-duty shrink tunnel for a superior shrink wrapping solution. This L-Bar sealer features a unique, smoothly-radiused seal bar that nearly eliminates the film tears that are caused by conventional L-bar sealers. The seal bar's special PTFE coating facilitates smooth film travel regardless of film type or thicknesses. The 6750EL featured an easy-to-use touchscreen interface that displays machine settings, seal parameters, data alerts, and more. This L-Bar sealer can wrap up to 60 packs/min (3,600 packs/hr.) making it a dependable, high production, multi-shift, industrial packaging solution.
The Clamco 6750EL Automatic L-Bar Sealer includes a 2-year limited warranty.
Operating Features
Quiet all-electric smooth operation, no need for air
Package speed up to 60 per minute for high production output,
dependent on product size and film thickness
Smooth Quiet Operation to reduce plant noise levels
Easy to navigate touchscreen interface for operators of most skill levels
Display of key packing statistics, including production rate and efficiency
Sealing Features
Film economizer wheels reduce scrap and improve final package appearance

Film minimizer allows the operator to adjust the trim tail away from the seal bar

Trim take-up wheel keeps the work area clean

Closing conveyor for smooth product transfer of small or flexible products

Rounded cross seal bar decreases film breakage

PTFE-coated sealing knives for high quality seals on most films

Start/Soft Stop for stacked product helps reduce shingling to keep the product square
Set-Up Features
Motorized seal centering and package opening height for effectively controlling proper film feeding
and enhancing package appearance of the seal to the package

Independent temperature adjustment of cross seal and longitudinal seal

Low powered film cradle with a film inverting plow for easy film loading and threading

Quick changeover and 20 program memory allows for product setup in less than five minutes
Safety Features
Fully enclosed electrical interlocked guarding ensures operator safety
Seal Bar safety sensors to detect product obstructions during closing

Fully enclosed electrical interlocked guarding for all doors, including the electrical panel

CE Compliant design for proper wiring, and safety operations

Emergency stop button strategically placed for quick operator response
Polyethylene cross seal bar to use 0.5–3 mil gauge polyethylene film
3' Fully Synchronized Integrated Power Infeed conveyor
6' Fully Synchronized Integrated Power Infeed conveyor
Heavy Duty Locking Casters
Model 6750EL Production capacity up to 60 packs/min*Conveyor speedup to 95 ft/min Seal bar (cross x front)20 x 25**Product height (max)8Film width (max)23.5, Centerfold Film roll diameter (max)13.75Electrical220V, 50/60 Hz Air Not required Machine size 86 L x 60 W x 65 H Machine weight1,450 lbsWarranty2 years*Speed dependent on package size, configuration, and film used.
**Seal area is dependent on overall product size.