160B 300B Single Arm Shrink Wrap Sealers
160B 300B Single Arm Shrink Wrap Sealers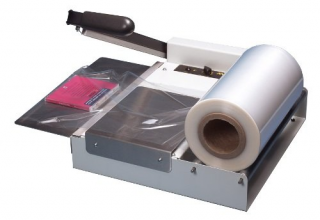 The models 160B & 300B are compact single arm shrink wrap sealers suitable for sealing small production quantities (max. 10/min) in shrink film.
The 160B & 300B work well with all shrink films and consistently deliver superior seals. These sealers are often used in combination with an available heat gun to shrink wrap products. The 160B & 300B sealers are equipped with a sealing/cutting wire, which seals and cuts the material in one simple and efficient operation.
The 160B & 300B systems offer a very flexible low-budget solution for your small production quantities and requires less space than other shrink wrap solutions. The 160B & 300B systems are ideal for use in stores, offices and other environments where a reduced machine footprint is desired.