Eastey Professional Heavy Duty Series
Eastey Professional Heavy Duty Series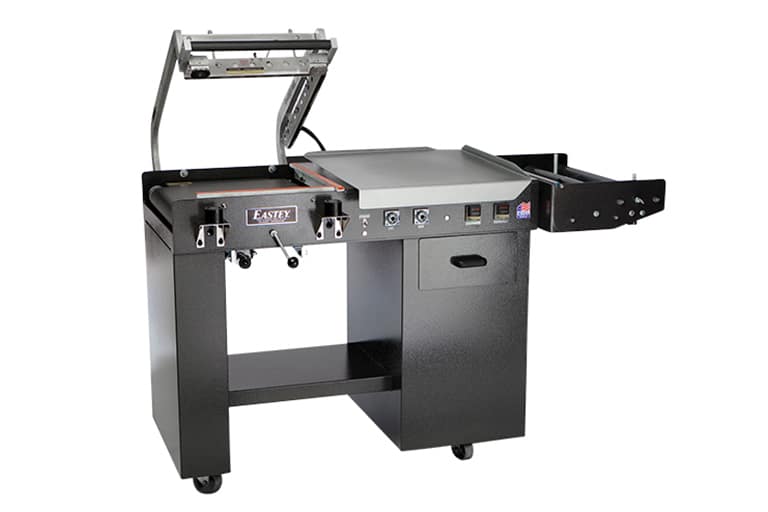 Professional Series L-Sealers
EASTEY's Professional Series L-Sealers provide top of the line features and the most robust L-Sealer design on the market today. Expertly welded from ¼" cold rolled steel, EASTEY Professional L-Sealers will withstand even the most abusive real world sealing applications. As a measure of strength, EASTEY L-Sealers weigh nearly twice as much as competitive models.
Eastey L-Sealers are designed and built to give you all the performance features needed for positive sealing a wide variety of films including polyolefin, polyethylene, and PVC. Cast seal arms, stainless steel film clamps, and heavy- duty magnet clamping are just some of the features that provide the durability you have come to rely on from EASTEY. See for yourself why EASTEY has been a leader in the shrink packaging industry for over 25 years.
Designed to seal most polyolefin, polyethylene, and PVC* shrink films
All-welded main frame from ¼" cold rolled steel
Built-in drawer for tools or spare parts
Seal head casting equipped with head return cylinder
Stainless steel film clamps hold film in place while sealing
Available with hot wire or hot knife seal systems
Hot knife seal systems available with mushroom (standard), pancake, or arrow inserts
Dual locking magnet clamps apply even pressure across sealbar
Adjustable dwell time for better seal control
Solid state temperature control adjustable for a variety of films*
Adjustable product tray accommodates wide variety of product sizes
Takeaway conveyor can be raised or lowered to center-seal product
Automatic takeaway conveyor
Heavy duty film cradle allows for easy changeovers and adjustments
Adjustable pin perforator provides air evacuation
Side seal size from 20" – 50"; front seal size from 16" – 100"
Maximum film width up to 44"
Maximum film roll OD up to 12"; 10" with power unwind
Custom two-part epoxy finish resists scratching

Heavy duty casters for transportation within plant
Available in 110v, 220v, or optional 480v
Easy to use design requires minimal training and maintenance
Made in the USA
*With Hot knife systems only
Power Film Unwind – Allows free feeding of film increasing operator efficiency.
Film Inverter – Inverting head allows the film to come off the back of machine. This pre-opens the film and minimizes operator effort which in turn increases output
Hot Knife Inserts – Hot knife inserts available in Mushroom, Pancake, or Arrow styles
Specialty Models – Stainless steel and left hand models available
DuoSeal – Continuously Heated Seal Bar