Clamco 854 Series Clamco Heat Shrink Tunnel
Clamco 854 Series Clamco Heat Shrink Tunnel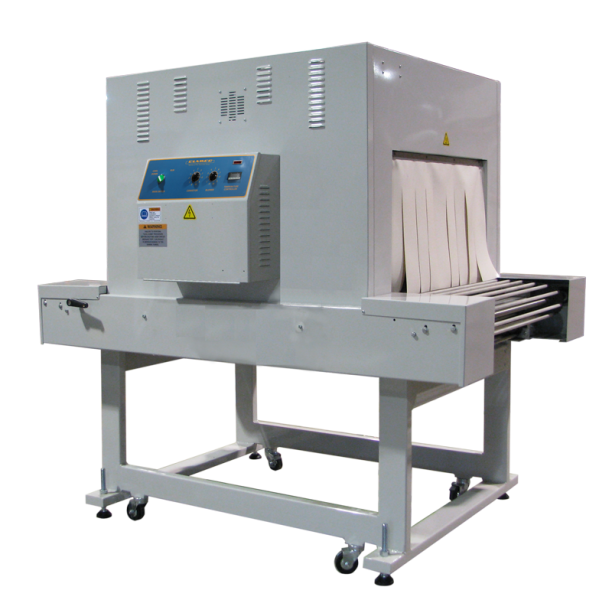 Clamco heat shrink tunnels use heat to shrink film around a wide range of packages. 854 Series shrink tunnels measure 31W x 44 L x 17H (79 cm x 112 cm x 43 cm). These shrink tunnels can be used in conjunction with an L-bar sealer or sleeve wrapper bundler – however they may be used as a stand alone for shrink banding applications. Shrink tunnels are great for packaging boxes, cartons, creating multi-packs, etc. The Clamco 854 Heat Shrink Tunnel features a mid-size chamber opening and 12,000 watts of heating power. The tunnel features digital temperature control with the control panel on the outside of the chamber for protection from heat. The 854 has a bottom air transfer design and air direction controls.
Features: All 854 Series Heat Shrink Tunnels
• Chamber opening–31W x 44L x 17H (79cm x 112cm x 43cm)
• 12,000 watts of heating power
• 220V, three phase
• Variable speed conveyor
• Fully insulated heat chamber
• Control panel on the outside of the heat chamber
• Digital precision temperature control
• Automatic cool down
• Air direction controls
• Variable air velocity control
• High efficiency, finned rod-heating elements
• Bottom airflow heat transfer system
• Adjustable levelers
• One year limited warranty
• Heavy gauge steel construction
• Made in USA
Features: 854 Heat Shrink Tunnel
Variable speed 68L, quick adjusting, live/dead roller conveyor
Features: 854MB Heat Shrink Tunnel
Variable speed 68L Teflon coated fiberglass mesh conveyor
Specifications
854 Series Clamco Heat Shrink Tunnel:

Company: Clamco Packaging

Machine type: Shrink Tunnels
Industries:
Electronics

Food

Chemical

Publishing/Print
Options
1.5 or 1 roller spacing (854 only)

Locking casters
Some photos may show accessories not part of basic machine.

Specifications and design features subject to change without notice.